Posted on 10th August 2022
Posted on Wednesday August 10, 2022
A story of Personnel Development – Nathan Lomax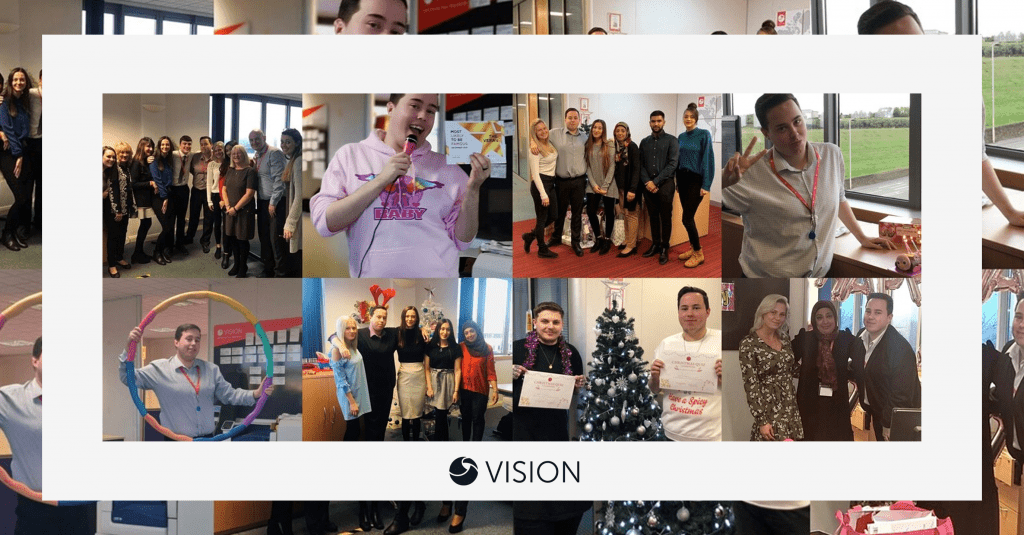 With a focus on nurturing talent and a performance-based rewards culture, our staff are our biggest asset. This ensures we continue to become the world's most trusted and respected textile supply partner.
Let us introduce you to Nathan Lomax, a valued member of the Vision team. His story is a great example of personnel development, where he has carved his own career path at Vision through hard work and (those who know Nathan personally will be well aware) his shining personality.
Nathan first started at Vision as a Sales Administrator. After his first year, he became instrumental in setting up Vision's customer service department. Our Head of Sales Support, Taira Ahmed, soon recognised the accuracy and efficiency with which Nathan was able to carry out his duties, such as processing orders, organising goods returns and handling customer enquiry calls. As such, Nathan was promoted to the position of Sales Support Manager. Within this role, not only was Nathan responsible for training our Sales Support Apprentices, and with what can be described as a fun-loving nature, Nathan is a great contributor to the high-spirited atmosphere within our sales office.
Throughout the Covid-19 pandemic, Nathan continued to be a valued employee of Vision, as he carried on working from home, while processing essential orders for laundries on behalf of the NHS.
With his five-year anniversary approaching, and with his time spent entirely within the sales support team, Nathan had started to assess where he could find his next challenge in his career. Rather timely, a role as an Ecommerce Executive arose within our digital team which took his interest. Nathan will be the first to say he hadn't previously envisaged himself as a member of a digital team. However, with an in-depth knowledge of Vision and our products, and a willingness to learn and work hard, who were we to stand in Nathan's way? The role for Nathan presented the challenge he was looking for, while being surrounded by a familiar and supportive team.
Nathan has now been in the role for nearly two months and already is contributing within the team and has successfully completed the 'Google Analytics for Beginners' training course. He will of course be missed on the Sales Support team, however for Vision as a company, we feel it is vital that we realise the capabilities and unleash potential, and achieving goals, personally and professionally.
Together, we wish Nathan all the success in his new digital role, and the best of luck in his next Google Analytics training course.
We are currently recruiting for a number of job roles across our company, including apprenticeships. So, if you are looking for your next challenge, perhaps you could find this with Vision Linens. Take a look at our vacancy page for all the details.